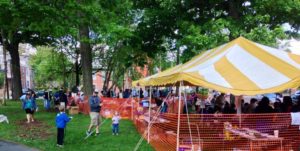 The purpose of the Church is to glorify God by being God-like in the world, to live in the world as Christ lived, to allow His life to be lived out through His body, the Church. As Christ was given one mission by the Father, He in turn gives only one mission to His Church. The Church exists in the world for the same ultimate purpose for which Christ came to reveal the glory of God to all men. This is the Great Commision, the mission of the Church, to see God's glory declared among the nations and to see His glory deposited into more and more disciples who congregate in local assemblies among all nations; continuing to radiate His glory to a dark world–until He comes again to extend His kingdom and His glory throughout the whole earth.
To that, Restoring Hearts Ministries of Trenton believes that outreach, OUT OF THE CHURCH, out of the pews, out into the community is a large part of our mission.  Community outreach is critical for the church and Restoring Hearts Ministries of Trenton is an outreach engine for Christ.  Bringing opportunities for the community and the churches to come together and worship, learn and hear the Word of God and most importantly to be introduced to our loving Savior Jesus Christ.
Restoring Hearts Ministries works with local churches to create outreaches that cross denominational boundaries, giving all who believe that  Jesus is our Lord and Savior, a chance to serve together in the common mission of loving as Christ loved, to minister as Christ ministered and to see His kingdom expanded.
Being out and about and speaking of our Savior is what we do.   We hope you will come join us.
RHM has many outreaches annually;  Please email us for more details at [email protected]