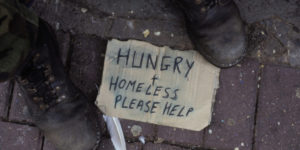 Request food
Click here to request food from the RHM Pantry
If you are Spiritually hungry for the Word – this isn't the page for you… reach out and let us plug you into a home fellowship ([email protected]) but if you need some help with food, please take a look at the places below;
If you need prayer please call or email us and please bless us by allowing us to pray with and for you.

Please note – RHM is not associated with any of the organizations on this page.  If you have a bad experience with one of them, please let us know right away by emailing us at ([email protected])
Food Banks in the Area
We are thankful for these organizations that have taken up the fight to feed the hungry.
Area Food Pantries
Pantry name
Street Address
City
Telephone
Open Days
Open Hours
Catholic charities emergency services
 132 North Warren St.
 Trenton
 394–8847
 Monday Tuesday Thursday
 9 AM to 12:30 PM
Crisis ministry
 123 East Hanover St.
 Trenton
 396-9355
 Monday through Friday last three weeks of each month third Saturday each month
 9 AM to 12 noon
Greater Donnelly initiative
 27 Fell St.
 Trenton
 802-3287
 Second Monday of the month next to last Monday of the month
 10 AM to to 2 PM and 11 AM a.m. to 3 PM
Mount Carmel guild emergency assistance program
 73 North Clinton Ave.
 Trenton
 392-3402
 Monday through Friday
 9:30 AM to 11:30 AM and 1:30 PM to 3:30 PM
Princeton deliverance center
301 Southard St.
 Trenton
 392-9161
 Wednesday Friday
 9 AM to 12 PM and 12:30 PM to 2 PM
Samaritan Baptist church
 531 Doctor Martin Luther King Blvd.
 Trenton
 393-0016
 Saturday
9 AM to 12 noon
United progress Incorporated
 162 West State St.
 Trenton
 392-2161
 Monday Tuesday Wednesday and Friday
 9 AM to 12 noon
Lutheran church of the Redeemer
 189 South Broad St.
 Trenton
 396-2411
 Last Thursday of the month
 Opens at 8 AM
Prime Iglesia Pentecostal Alpha and Omega Incorporated
 347 2nd St.
 Trenton
 571-9135
 first and third Wednesday of the month
 5:30 PM to 7:30 PM
Sacred Heart Church
 343 S. Broad St.
 Trenton
 393-2801
 Tuesday before the fourth Sunday of the month
 2 PM to 6 PM
Turning point United Methodist Church
 15 South Broad St.
 Trenton
 393-9574
 third Sunday of the month
12:30 PM to 2 PM
Greater word for the world ministries
 29 West Front St.
 Trenton
 394-9094
 Saturday
 9 AM to 11:30 AM
Bethel Seventh-day Adventist
 209 Hillcrest Ave.
 Trenton
 393-2224
 third Sunday of the month
 8 AM to 12 noon
Cadwalader Asbury United Methodist Church
 900 Stuyvesant Avenue
 Trenton
 392-1037
Second third and fourth Thursdays of the month
 4 PM to 6 PM
Trinity Episcopal Cathedral
 801 W. State St.
 Trenton
 532-3805
 Every other Saturday
 9 AM to 11 AM
E. Trenton Ctr.
 601 North Clinton Ave.
 Trenton
 393-8009
 Monday Tuesday Wednesday (The last three weeks of each month) Friday(Produce only)
 10 AM to 1 PM
Abundant life Christian Fellowship
 1440 Pennington Rd.
 Ewing
 883-9780
 Fourth Saturday of the month
 9 AM a.m. to 1 PM
Celestial Church of Christ
 46 Weber Avenue
 Ewing
 771-9227
 first and third Sunday of the month
 3 PM p.m. to 6 PM
Concerned citizens of viewing Incorporated
 320 Hollow Brook Dr.
 Ewing
 882-0856
 Monday to Friday
 9:30 AM to 1:30 PM
New Bethel holy Church
 25 Weber Ave.
 Ewing
 883-3979
 third Friday of the month
 9 AM to 1 PM
Faith deliverance Cathedral
 15 Keswick Ave.
 Ewing
 637-9604
 Monday and Friday
 11 AM to 1:30 PM
True servant CDC multitudes food pantry
 2616 South Broad St.
 Hamilton
 888-0288
 fourth Saturday of the month
 9 AM to 11 AM
St. Raphael's holy Angels
 151 Gropp Ave.
 Hamilton
 585-3848
 two Saturdays a month varies call for information
 9 AM to 11 AM
Christ Presbyterian church
 726 Klockner Rd.
 Hamilton
 587-0751
 second Thursday of the month
 3 PM to 7 PM
Faith Baptist church
 2111 Kuser Rd.
 Hamilton
 585-9186
 third Saturday of the month
 9 AM to 1 PM
First Haitian Church of God
 1501 Greenwood Ave.
 Hamilton
 695-3708
 third Saturday of the month
 1 PM to 5 PM
The Haitian center
 530 South Olden Ave.
 Hamilton
 588-8808
 Monday through Thursday
 8:30 AM to 3:30 PM
Resurrection Lutheran church
 4315 Nottingham Way
 Hamilton
 586-3355
 Thursdays
 6:30 to 7:30 PM
New covenant United Methodist Church
 1965 South Broad St.
 Hamilton
 393-4725
 third Wednesday of the month
 5 PM to 9 PM
Bromley neighborhood Civic Center
 1801 East State St.
 Hamilton
 587-8100
 Tuesday and Thursday
 9 AM to 1 PM and 2 PM to 4 PM
John O. Wilson neighborhood service center
 169 Wilfrid Ave.
 Hamilton
 393-6480
 Monday and Wednesdays
 10 AM a.m. to noon 1 PM p.m. to 3 PM
Community action service center– Rise
 225 Franklin St.
 Hightstown
 443-4464
 Monday Tuesday and Wednesday
 9 AM a.m. to 12 noon
Homefront Incorporated
 1880 Princeton Ave.
 Lawrenceville
 989-9417
 Monday Tuesday Thursday
 12 noon to 8 PM Tuesday 9 AM to 5 PM others
Lawrence community Center
 295 Eggerts Crossing Rd.
 Lawrenceville
 883-3379
 first and third Thursdays of the month
 12 PM to 4 PM
Crisis ministry
 61 Nassau St.
 Princeton
 921 2135
 Monday through Thursday
 1:30 PM to 4 PM
Jewish children and family services
 707 Alexander Rd. Suite 102
 Princeton
 987-8100
Tuesday and Wednesdays
Must call for an appointment
First Presbyterian Church of cranberry
 22 South Main St.
 Cranbury
 395-0897
 third Friday of the month
 9 AM to noon
First Presbyterian Church of Morrisville
 771 North Pennsylvania Ave.
 Morrisville PA
 215-295-4191
 Wednesday first Tuesday of the month
 9 AM to 12:30 PM and 7 PM to 8 PM
On site meals
Pantry name
Street Address
City
Telephone
Open Days
Open Hours
Church of Christ
 434 North Clinton Ave.
 Trenton
No phone provided
 Second Saturday of each month
 Lunch from 11 AM to 1 PM
Jerusalem Baptist Church
 150 North Clinton Ave.
 Trenton
No phone provided
 Third Saturday of a five week month and the first Saturday of the four week month
 Lunch from 11:30 AM to 1 PM
Close and fishes at St. Mary's Cathedral
 at the corner of Perry and Warren St.
 Trenton
 396-8447
 Last two Saturdays of the month
 Breakfast 9 to 11 lunch 11 to 1:30 PM
Rescue Mission of Trenton
 98 Carroll St.
 Trenton
 695-1436
 first Saturday of a five Saturday month and every Sunday
 Lunch from 11 AM to 12 PM
Sacred Heart Church
 434 S. Broad St.
 Trenton
 393-2801
 fourth Sunday of the month
 Lunch from 12:30 PM to 2 PM
Trenton area soup kitchen
 72 1/2 Escher Street
 Trenton
 695-5456
 Monday through Thursday and Friday
 9 AM the 5:30 AM & 9 AM To 2 PM
South Trenton soup kitchen at St. Stanislaus Church
 60 Randall Ave.
 Trenton
 695-5456
 Thursday
 Dinner from 5 PM to 6:30 PM
West Trenton soup kitchen at Trinity Episcopal Cathedral
 801 West State St.
 Trenton
 695-5456
 Monday Tuesday Wednesday
 Dinner from 5 PM to 6:30 PM
* Note this list may change frequently